Ferenc Puskás - Nobody's Fool
It is a calm Sunday in the Scottish Football Museum with the usual concentrated, fascinated silence from visitors- taking in the wonderful heritage and items that surrounds them- is felt in the air. A man and his little girl are intrigued by a plaque that has caught their eye. She asks her father who is the man the plaque is commemorating, only for him to respond enthusiastically "That is Ferenc Puskás. One of the greatest players to ever play the game."
Ferenc Puskás was a Hungarian footballer. Some people are led to believe that Puskás was born on 2nd April 1927. However, in György Szöllősi's excellent book, 'Puskás', reveals the Hungarian was actually born on April Fools Day but did not want this information to be known; destroying all data of his birth date, except that which existed in his passport and was seen by his wife. Puskás was also referred to by his family as Öcsi; meaning younger brother.
From a very young age, young Öcsi was playing barefooted in the streets of Hungary with his friends using a ragball. It became clear young Öcsi had incredible footballing skill, which at times would get him out of trouble with his mother. His friends taking the wrap when his mother could not find him anywhere near the house; pleading for Puskás to stay out because he was the best footballer.
Puskás started his career at Kispest AC who would have their name changed to 'Budapest Honved' by the Hungarian Ministry of Defense in 1949- becoming the Hungarian Army Team. Players were given army rank positions with Puskás becoming a major, leading to his famous nickname 'the Galloping Major'. He would make over 341 appearances and score 352 goals, which would contribute to lifting the Hungarian League title five times with the club.
It would not take long for Puskás to be called up to the Hungarian national side, making his debut in 1945 which would be the beginning of a golden era for Hungary. Dubbed the 'Mighty Magyars' the Hungarians would go unbeaten in 32 consecutive matches, leading them to win the Gold medal at the 1952 Olympic Games in Helsinki; beating Yugoslavia 2-0 in the final.
Though it was in 1953 when Hungary traveled to Wembley stadium to face England. Puskás and his Hungarian teammates would send shock-waves throughout the globe as England were humiliated on home soil. The Hungarians would defeat England 6-3 in front of a stunned home support, the first time England conceded six goals on home soil since Scotland defeated them 6-1 at Kennington Oval in 1881.  It was in this match where Puskás scored a goal of such technique and venom. Öcsi facing a lunging challenge by England captain Bill Wright drew the ball back and dispatched it immediately into the net with his left foot.  Sir Alex Ferguson shares his amazement of the demolishing of England at Wembley in the Puskás book  saying,
"No one expected what we were about to witness; a new way of playing football. It was nothing short short of breathtaking."
The performance from the Magyars changed forever how football was played. They dealt a fatal blow to the supremacy of the English game at its very root.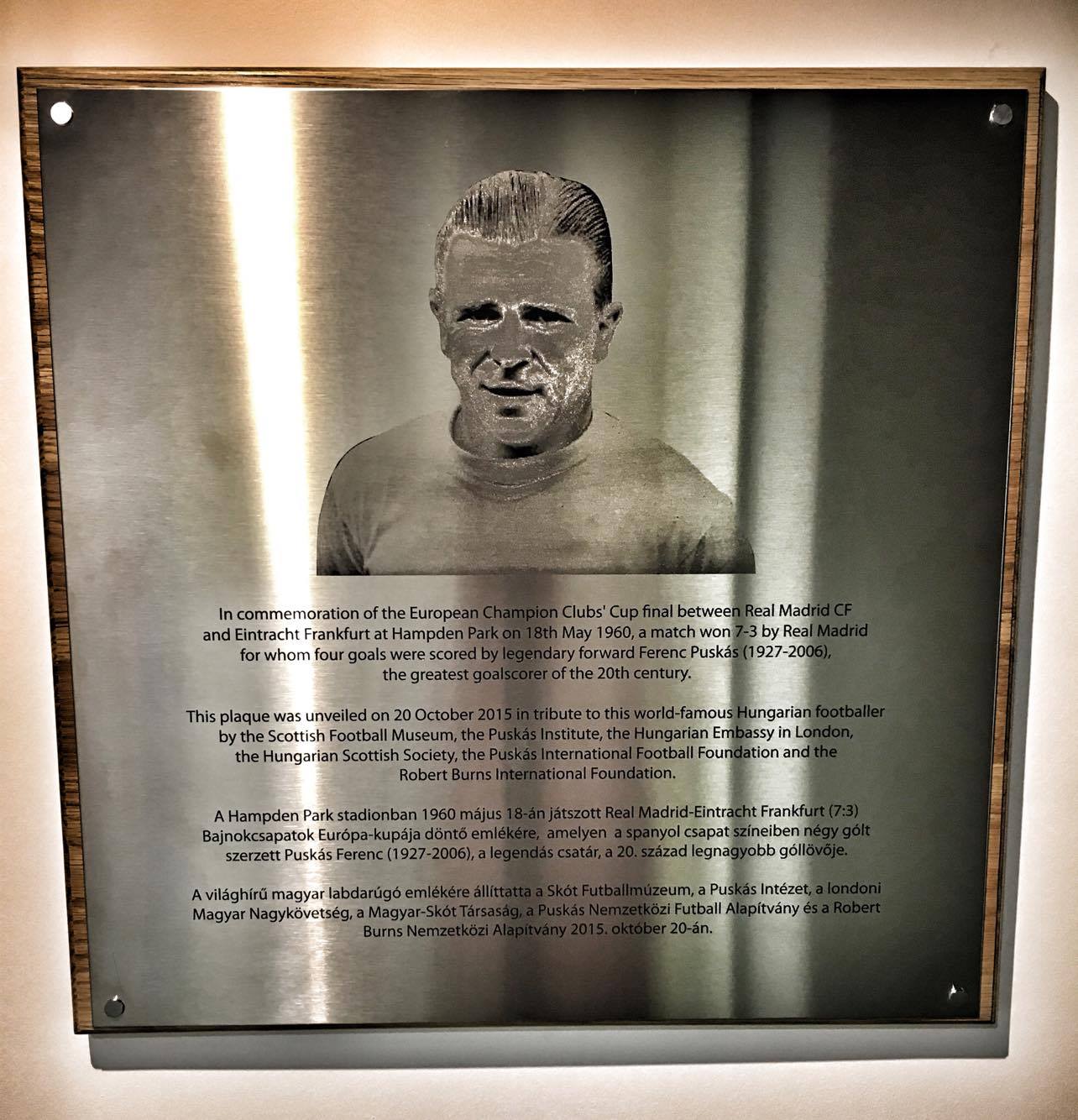 The plaque in honour of Ferenc Puskás
A year later this magnificent team led by Puskás would dazzle the world stage at the 1954 World Cup. Victories against South Korea, West Germany, Brazil, Uruguay would see the Magyars reach the final. Puskás would not play in all the matches due to a hairline fracture of the ankle after a tackle by Werner Liebrich against West Germany, and did not return until the final where they would face West Germany again. Puskás played the match despite his injury and scored the first goal after six minutes. However, the Germans turned the game around and beat the Magyars, 3-2, grabbing a late winner with six minutes before the end.
Months later in a chilly December afternoon, the Mighty Magyars arrived in Glasgow for their friendly match against Scotland. Because the match was on television and in black and white, Scotland for the first time in their history wore white sleeves to avoid less confusion for the viewer. 120,000 fans stood on the slopes at Hampden Park, meaning many people must have took the day off work/school because the game on a Wednesday afternoon. The match finished 4-2 to the Hungarians but Scotland would not disgrace themselves. Before the match no one gave them a chance whatsoever but the Scotland support left Mount Florida satisfied with a spirited performance against the Magyars. After the game, whilst speaking in a post match interview, Puskás shared his admiration for the Scotland supporters passion revealing,
"We of Hungary will have to realise that the fighting spirits is still one of the greatest assets in football."
He even took time to state his love for Hampden Park declaring,
"It is the most magnificent stadium I have ever seen, the life and essence of football."
The Hungary uprising in 1956 resulted in Puskás and other people to take their families out of the country. A challenging time for all involved. Öcsi and his family settled in Western Europe and he refused to return to Hungary where he would later be exiled. FIFA would then implement a two year ban on teams not to sign any Hungarians. Yet despite being out of football for nearly three years and putting on weight, this did not stop teams pursuing his signature. Real Madrid decided to take the chance on the 31 year old and he would not let them down.
Puskás started his second career in football with Los Blancos and was possibly better in this period compared to his early years. He lost 18 kilograms, became fitter and was more experienced and ambitious than ever. Puskás was ready to amaze the world again. His time at Madrid would see him win ten honours with the Spanish club- including  five Spanish League titles and three European Cups. His best Cup win would be in the 1960 European Cup Final held at Hampden. Puskás' return to Hampden Park is regarded as the greatest football match in the history of the sport, playing his greatest ever game scoring four of the goal as Real Madrid beat Eintracht Frankfurt 7-3. The brilliance of the all white Madrid glowed in the south-side of Glasgow. The crowd would not stop applauding such brilliance. Once again Puskás' influence, with this wonderful team, would change the way football was played forever. Indeed, Puskás also holds a piece of unwanted history as being the only player to score a hat-trick in  European Cup Final and still be on the losing side when Real Madrid lost to Benfica 5-3 in 1962.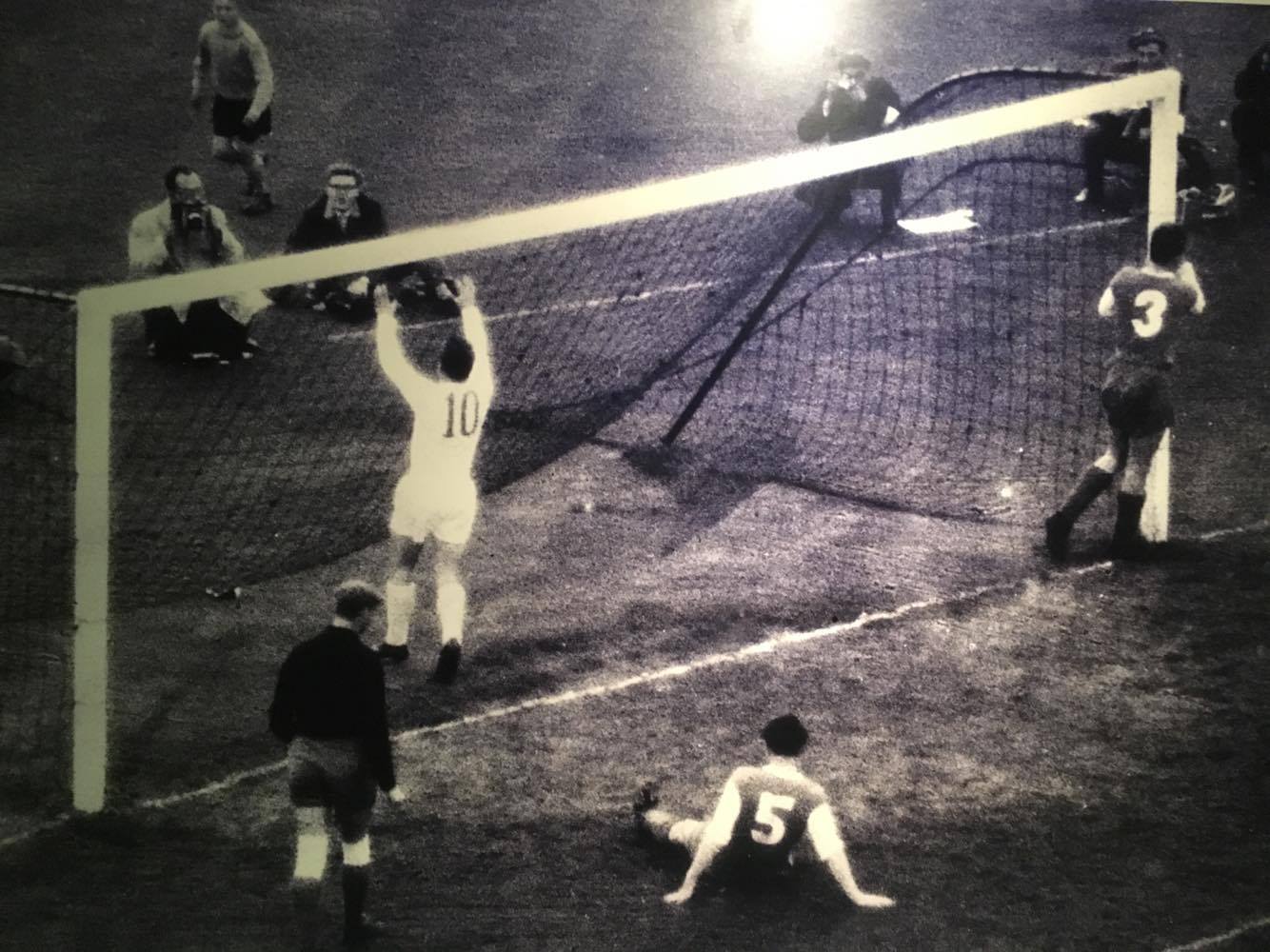 Puskás scoring in the 1960 European Cup Final at Hampden.
After a wonderful career as a player, Puskás went into management which took him all over the world. His spell as Panathinaikos boss would see his side in 1971, despite losing 2-0 to Ajax, becoming the only Greek club to reach a European final to date. However, with the notable exception of his spell at Panathinaikos, he failed to transfer his success as a player to his coaching career.
After the iron curtain came down he returned to Hungary in 1991 where his legend, suppressed for generations by the regime, was restored before he died in 2006.
Today the legend of Puskás is most visible once a year at the FIFA Player of the Year awards where the accolade for Goal of the Year bears his name. After a couple of years of discussions, The Puskás Award came into place in October 2009, with Cristiano Ronaldo being the first winner for his strike against Porto for Manchester United.
Though his name is present annually at the football awards, the Museum's plaque and footage of the 1960 European Cup Final is visible everyday- to ensure that visitors are able to learn about how young Ocsi grew up to be of one of the most influential figures in Hungarian history and one greatest of all time in the beautiful game. The Galloping Major: Ferenc Puskás.
Book your place
Discover a national football collection to educate and inspire future generations.
Book online or call us today on 0141 616 6139.