Ibrox 1945: When Rangers tackled the might of Moscow Dynamo
It was the most keenly anticipated match in Scotland since the outbreak of World War Two. The crack Russian side Moscow Dynamo, with their revolutionary passing and movement game, which became known as Passvotchka, against the might and power of Rangers.
At a distance of 72 years, with wall to wall European matches on television almost 24/7, it is difficult to appreciate the interest engendered by Moscow Dynamo's British tour in November 1945. The Second World War had recently ended and although the west and east stood on the cusp of the Cold War, there was still a fair amount of affection amongst the British public for our war-time allies.
For Scottish football fans used to so much thin gruel during the war years this was a sumptuous feast, too attractive to miss. Consequently, 90,000 fans turned up at Ibrox on 28th of November for the last match in the Russians' four-match schedule.
The tourists were undefeated so far, having drawn 3-3 with Chelsea, thumped Cardiff 10-1, and defeated Arsenal 4-3 in a farce of a match played in thick fog. As much for propaganda purposes than anything else, they were determined that this state of affairs should continue. For Rangers' part, they were tasked with saving the reputation of British football.
The Russian party had arrived in Glasgow on the Monday before the match, and almost immediately became embroiled in an argument over Jimmy Caskie, who Rangers hoped to sign from Everton.
Dynamo were still bristling over Arsenal's use of six guest players including the two Stans, Mortensen and Matthews, and insisted that a list of 18 players be submitted, from which Rangers' side would be chosen. Caskie's name wasn't on the list, and the Russians, fearing a repeat of the Arsenal fiasco refused permission for him to play. The row threatened to cancel the match, until Rangers backed down. Scottish revenge was swift and ruthless, however.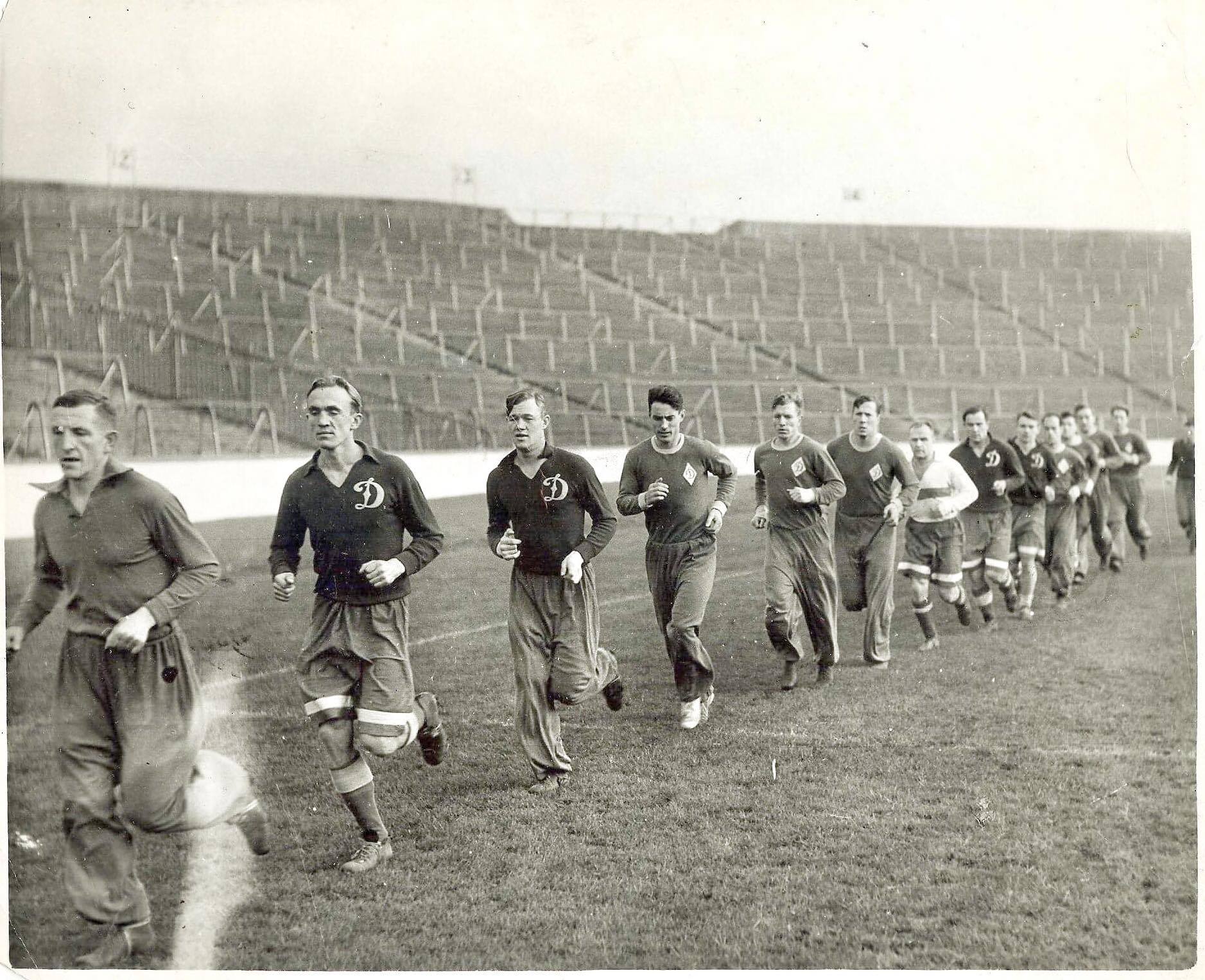 Dynamo Moscow train at Ibrox.
The Russian party spent the Tuesday evening at the La Scala cinema watching a Donald Duck and Sonja Henie double header, and in our own propaganda move, this was preceded by a cruise down the Clyde where, just by chance, views were afforded of the might of British sea power in the form of 45,000 ton battleship Vanguard.
The morning of the match saw a repeat of the fog that had bedevilled the Arsenal match, but it lifted in time for the kick off and fans were queuing three hours before kick-off. The black market in tickets saw stand briefs with a face value of 21 shillings sell for as much as £10, and by kick off time 90,000 fans were inside Ibrox.
Nine-year-old David Sands had ensconced himself at the trackside wall adjacent to the players' tunnel for the best view of the players as they entered the field. He shouldn't have been at the match of course, it was a school day, but his wise and understanding parents decided that their son would benefit from a different kind of education for one day only.
Seventy years later, David recalls the excitement and the mixture of emotions around the match. "My father had secured two tickets, but my excitement was tempered by the concern that the game was being played on a Wednesday afternoon when I should have been at school. For the one and only time however, my parents decided the game was a historical occasion and as such, also educational, seeing real Russians and all that. The only time you saw football on film was on Pathe News at the pictures. Of course, seeing Dynamo's first three games, although very little of the Arsenal match was seen due to fog, heightened the expectation of seeing them play Rangers.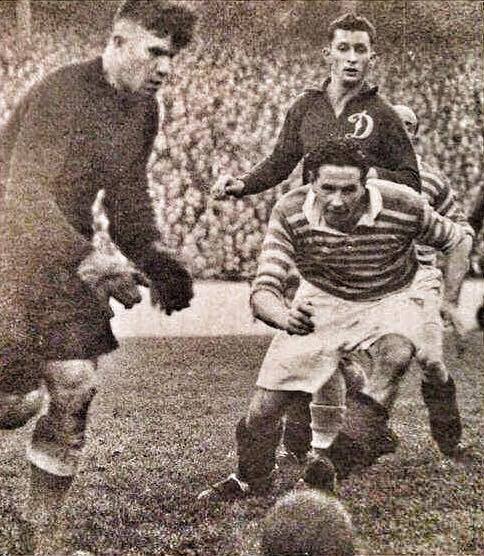 The teams shake hands before kick-off.
"I was desperate to boast to my schoolmates but was sworn to silence about the reason for my absence from school. A great debate amongst youngsters was the shorts worn by Dynamo featuring the distinctive white band around the thighs, one of the popular theories being it allowed them to find a teammate with a pass without having to look up at their jersey."
The first surprise of the day – the crowd were treated to an elaborate warm up routine by the Russians, was quickly followed by Rangers' choice of strip. With Dynamo wearing dark blue jerseys, Rangers donned Queens Park style thin blue and white hoops. The Dynamo side included famous goalkeeper 'Tiger' Khomich, the wonderfully named winger Archangelski, and Konstantin Beskov who, as Dynamo manager would cross swords with Rangers in the 1972 Cup Winners' Final.
The sniggers from the crowd at the sight of Rangers' iron-man captain Jock Shaw being presented with a bouquet of flowers had barely died when Dynamo opened the scoring after just two minutes when inside right Kartsev drilled a twenty yard free kick past Jerry Dawson. Almost immediately however, Billy Williamson was felled in the penalty area, but Dynamo's goalkeeper 'Tiger' Khomich saved Willie Waddell's spot kick, knocking the ball onto the crossbar. Dynamo dominated the rest of the half. Their subtle, speedy and attractive style allied to their interchanging forwards was too much for Rangers. In 24 minutes Dynamo went 2-0 ahead with a goal that encapsulated Passovotchka. Seamlessly turning defence into attack, Dynamo passed their way up field until Kartsev shot low and hard past Dawson. For David Sands, the game was not going to plan.
"For a youngster who saw Rangers as invincible, the game hadn't followed the script, with the great Jerry Dawson picking the ball out of the net twice, Waddell missing a penalty and 'Tiger' Khomich in the Dynamo goal was performing the acrobatics we had heard about."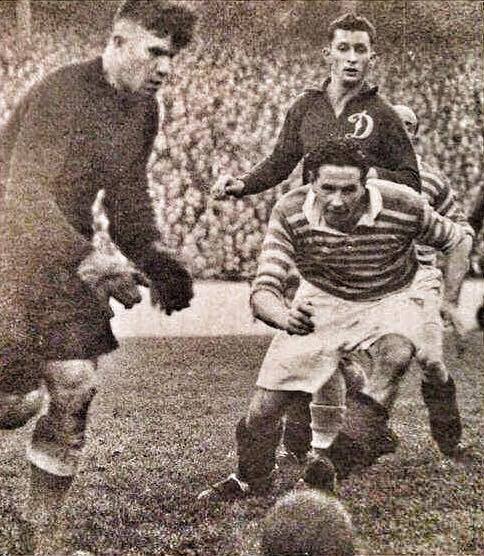 Khomich collecting the ball as Waddell chases it down.
Indeed, showman Khomich was distinguishing himself with some spectacular leaps and catches, but giant centre forward Jimmy Smith gave Rangers hope just before half time with a scrambled goal, and suddenly Dynamo didn't look so comfortable. In the second half Rangers' more physical approach unsettled the Russians further, and then came one of David Sands most vivid memories of the match.
"During the second half when Rangers were playing with more aggression, we saw something new, the game stopped and both teams made substitutions. After the Dynamo substitution the crowd were bewildered then amused by Torry Gillick running around counting the Dynamo players and pointing out to the referee that no player had left the park and they had twelve players."
The sharp eyed Gillick may have been aware of allegations this tactic had been adopted in the dense fog against Arsenal, and there was retribution of a kind shortly afterwards, when George Young equalised after a dubious penalty award, given by the referee after consultation with his linesman. Both teams, honour intact, settled for a draw and the Russians quietly slipped out of the country the following day, returning as heroes to their homeland. For David Sands, the seven decades since this famous match have not dulled the impact it made on a generation of young fans.
"Suddenly in kickabouts, every young goalkeeper was rolling about like Tiger Komic, while it was inside forward Bobrov I wanted to play like and Rangers to sign."
Rangers' fans would have to wait over forty years for a player from the Soviet Union to sign for them, and it would be over a decade before European competition began in earnest, but for the 90,000 fans afforded a glimpse of this exotic, mysterious team, it was a memorable, unique experience that left them eager for more. The next step in David Sands' education came the following day when he handed a sealed envelope to his teacher.
"My parents didn't want to tell a lie, so it was a letter from them explaining that my absence was due to me attending the game. I don't know if the teacher was a Rangers' fan, but lucky for me, he understood, and I could tell all my mates where I had been, at last."
Rangers: Dawson, David Gray and Sgaw, Watkins, Young and Symon, Waddell, Gillick, Smith, Williamson and Johnstone. Sub Duncanson for Smith.
Moscow Dynamo: Khomich, Radikorsky and Stankevich, Blinkov, Semichastny and Oreshkin, Archangelsky, Kartsev, Bescov, Bobrov and S. Soloviev. Sub Dementiev for Bobrov
This article was constructed and written by two of our Museum staff members: Graeme Ross and David Sands.
Book your place
Discover a national football collection to educate and inspire future generations.
Book online or call us today on 0141 616 6139.