Robert Cumming Hamilton - Scotland's Forgotten Number Nine
A considerable volume of hours spent, every so often, looking through the football history archives is a passion of many of Scotland's population and, on rare occasion, a hidden gem that has fallen off the Scottish football radar can be stumbled upon. This such occasion happened to me a few years ago whilst looking through Scottish player profiles and old newspapers, coming across a forgotten striker; a huge Rangers and Scotland star in his time: Mr Robert Cumming Hamilton (or R.C. Hamilton as he's referred to in the history books). The story of Mr Hamilton scripts as a celebrated record goal-scorer enriched with a very unique life and career.
Robert Cumming Hamilton was a Scottish football celebrity in the years before World War One. An Elgin man who was born on 13th May 1877, he would go on to play for Elgin City in the Highland League before leaving the north of Scotland to move to Glasgow to sign for Scotland's oldest senior club, Queen's Park FC, in 1896. His move to Glasgow was inevitable, not just because of Queen's Park, but for being accepted into the University of Glasgow to study teaching. During his studies, however, his footballing talents were too impressive to go unnoticed and he quickly caught the attention of Rangers; leading to Hamilton signing and becoming a professional player for the Govan side a year later in 1897.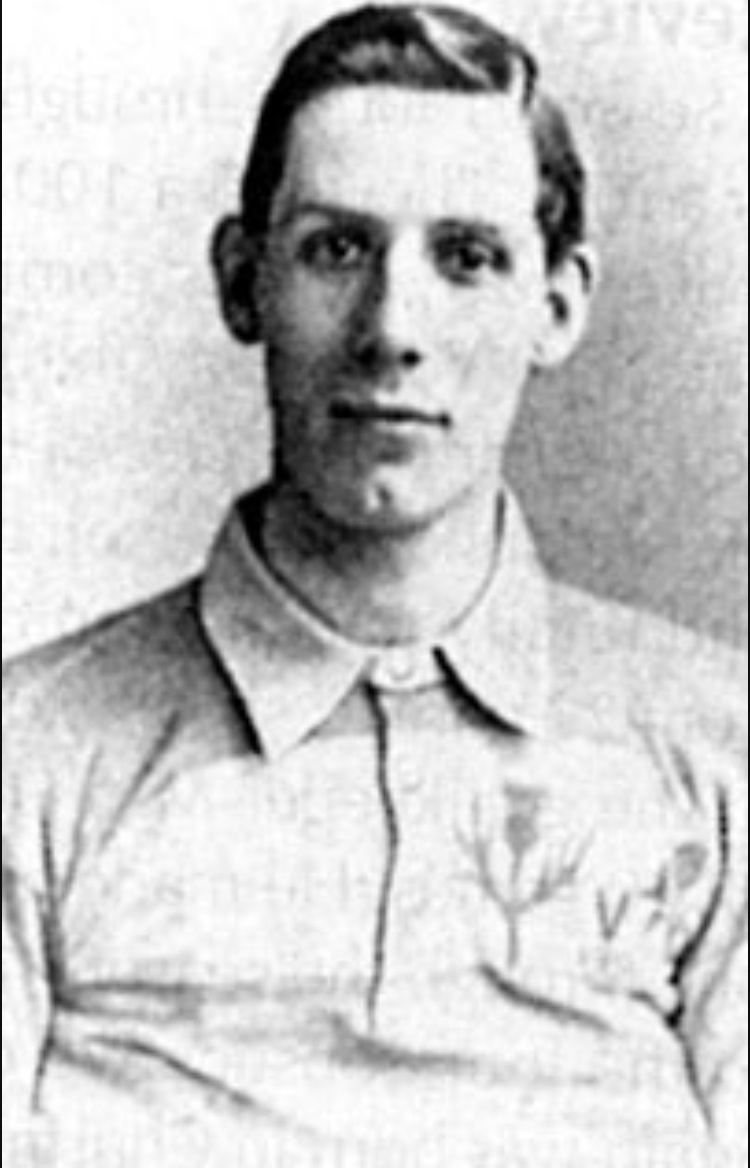 He joined Rangers that summer and became the star of the side, staying till 1906 and, due to his popularity, he was brought back to Ibrox in the 1907-08 season for a second spell. Over both spells, with the help of his trademark right footed long range goals, he would score 312 goals in 367 appearances for the men in royal blue. In these two periods with the 'Gers' Hamilton won four League medals and two Scottish Cup medals. His greatest claim to immortality with Rangers is that he captained the most successful of Rangers teams, the undefeated champions of 1898-1899 that played 18 and won 18 (still a world record to this day). On the day when Rangers completed the record by defeating Clyde, at Shawfield Park, Rangers captain R.C. Hamilton spoke at the tea party which always followed the matches played in Glasgow. He stated their success was:
"Due largely to the splendid esprit de corps that had animated the team. They were the heart and soul of the club, prepared to fight out every match to the last second; and, indeed, the story of their victories shows that without indomitable courage this wonderful record could never have been created."
Hamilton also finished top goal-scorer for Rangers in each of these nine complete seasons at Ibrox- and, in six of these years, he too was the Scottish League's top scorer- as well as graduating as a teacher from Glasgow University. Another personal historical achievement of Hamilton's, which will please the Ibrox faithful, is that he is the all-time record goal-scorer in the Old Firm fixture, scoring 35 goals past Celtic.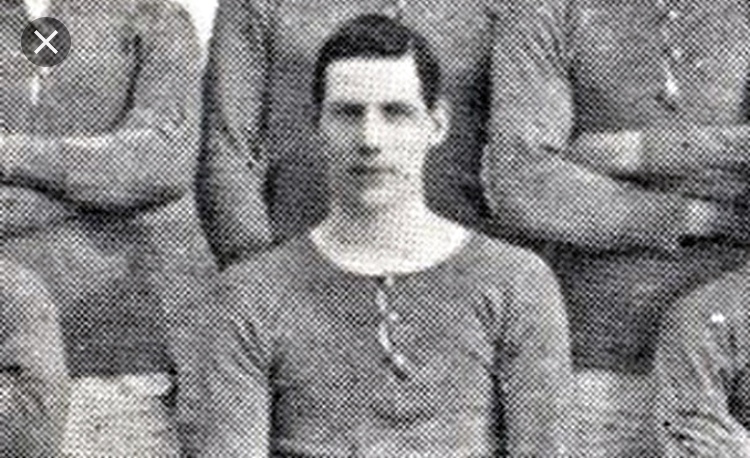 Above - Hamilton for Rangers. 
His part in helping bring great success to Rangers would result in Hamilton being called up to represent his country at international level. Whilst playing for Scotland, R. C. had an amazing record; scoring 15 goals in 11 games, he came into the side for the 1899 Home Internationals on his debut, where Scotland defeated Wales 6-0 at Wrexham, surprisingly Robert was not on the score-sheet. Hamilton did, however, net twice in the 9-1 win over Ireland at Celtic Park and in the final game that year he scored again, although only a consolation goal in the 2-1 defeat by England at Villa Park. Hamilton would put in a fine performance in his fifth International in 1901. As well as having the honour of captaining his country, he would score 4 goals against Ireland at Celtic Park, resulting in Scotland winning 11-0 that day, which is still the nation's biggest ever victory. Mr Hamilton must have liked going toe to toe with the Irish as he grabbed another three goals against the men in green the following year; in a 5-1 win at Grosvenor Park, Belfast. Hamilton's tenth Cap was also against the Irish in 1904, this time at Dalymount Park, Dublin. The Irish had obviously improved as they achieved a 1-1 draw; unsurprisingly, it was Hamilton who scored Scotland's goal.
In 1906, Hamilton's career took him south of the border to Fulham FC for one season, winning a Southern League Championship medal with the London side. A year later, his labour of love led him back to Scotland, returning to Rangers for a second spell. After his one year back at Ibrox, Hamilton was recruited by Hearts, scoring 1 goal in 7 games. Though his spell with the Jambos did not work out as well as both parties thought and Hamilton would be on the move to Greenock Morton in 1908; staying at the 'Ton for two years, where in 57 games he would find the back of the net 27 times. This re-discovered form from the famous forward caught the attention of Dundee who then signed Hamilton in 1910, he would make sure he repaid the faith Dundee had in signing him; by doing what he did best- scoring goals. Hamilton would go on to score 43 goals in 101 appearances for the Dee. Incredibly, it was during this spell that Hamilton, seven years since his last international match and at the tender age of 33, would be re-called up to the Scotland squad again; for the match against Wales at Ninian Park in the 1911 British Championships- where, written in the stars,  he would score both of Scotland goals in a 2-2 draw.
After retiring from playing in 1914, Hamilton, a schoolmaster to trade, returned to his native Elgin, where he ran his family's net manufacturing business. The former football star would then see himself becoming involved in local politics- serving in the Elgin council between 1914 and 1937. For the last six years of this period he held the position of Lord Provost of the town, before passing away in May 1948 at the age of 71. Simply an incredible life lived for a footballer of the late 19th/early 20th century. A jack of all trades with incredible achievements, possibly the greatest player to emerge from the town of Elgin, who moved to Glasgow University to study teaching, making history as one of the finest players to play for Rangers, Morton and Dundee, finding the net regularly for the Scotland national team as well as serving as Lord Provost of his home town.
Upon past discussion with Elgin's historian, Mike Whelan, it was revealed that a book is in the process of being written of Mr Hamilton's story. Yet, it is a wonder as to why this book has not ever been written before now. One of Hamilton's Scotland caps, along with an artist sketch, can be found in the Elgin City boardroom.
In November 2013, a group of Rangers supporting students at Glasgow University met with a dream to set up a Rangers supporters club within the campus. When it came to picking a name for the club they discovered Mr Hamilton's tale as a great Ranger and a Glasgow University alumni. They therefore decided to name their university society 'The R.C. Hamilton Glasgow University Rangers Supporters Club', in which their aims are to, firstly, attend matches, but help spread the story of yet another monumental servant to the Scottish game. There is simply no case to answer as to why this remarkable figure, whose goal scoring records still stand to this day, has been forgotten by the Scottish football population. Despite being in the Rangers Hall of Fame, is quite remarkable that one with such success in Scottish football has not been considered in the past by fans, from all his previous clubs, to consider Hamilton a potential inductee in the Scottish Football Hall of Fame.
Indeed, it is perfectly fine for fans to credit the achievements of the heroes of today, though it is important not to forget the likes of Mr Hamilton- whom originally set the high standards of quality our ancestors grew up adoring; leaving monumental accolades behind them that have not been matched for nearly 100 years. This unnoticed gem of Mr Hamilton's story proves, once again, that when it comes to football- this small nation's rich history in the beautiful game is second to none.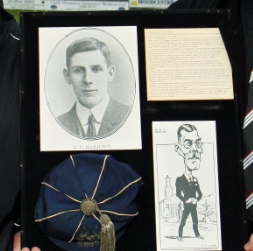 Left- One of Hamilton's Scotland caps which can be found in Elgin's boardroom.
Book your place
Discover a national football collection to educate and inspire future generations.
Book online or call us today on 0141 616 6139.