1872 International
The display that you first encounter on entering the museum relates to a story told by Queen's Park and Scotland legend Walter Arnott who would himself play 10 times in succession against England (between 1884 and 1893). A photograph of Walter along with his Scotland cap and a pair of his boots can be seen on display.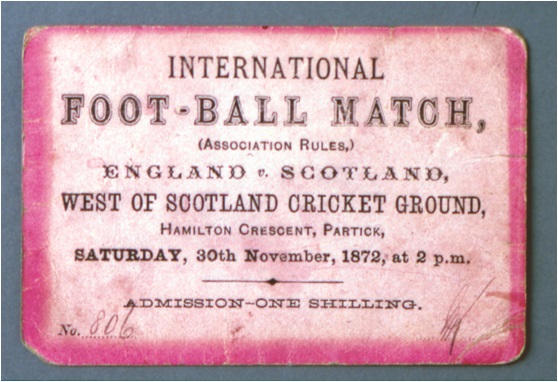 Walter was just a boy when the 1872 game took place and he arrived at the West of Scotland Cricket Ground with no money. He initially looked through a gap in the perimeter fence to catch a glimpse of the field before persuading the driver of a hansom cab (horse drawn carriage) to allow him to stand on top in order to watch the game.
The first international ended in a 0-0 draw – this score line would not be repeated until 1970 (98 years later).
Celtic Park
It has been 110 years since Celtic Park last hosted the Scotland v England fixture
Tomorrow will be the sixth time that both countries have met at Celtic Park
The results from the previous five games are Scotland 2 wins, England 2 wins with 1 drawn.
The Rosebery international of 1900
The 1900 match at Celtic Park was known as the 'Rosebery international' as the Scotland players adopted the primrose and pink horseracing hoops of Lord Rosebery, an important patron of the Scottish FA. The Rosebery shirt worn by Scotland forward RS McColl and the match ball are on display in the museum.
McColl was in high demand after starring in the 1900 international and on turning professional he was inundated with offers from a host of English clubs. Some of these letters are on display nearby.
First games
Celtic Park's first hosting of the fixture ended in a 2-2 draw in 1894. The present day (3rd) Hampden Park first hosted the fixture in 1906 with Scotland winning 2-1. Wembley Stadium first hosted the fixture in 1924 with the game ending in a 1-1 draw and, of course, was the most recent host with England defeating Scotland 3-2 in 2013.
World Records
The historical importance of the fixture in Scotland can be seen by the accumulation of world records that were set at Hampden Park between 1908 and 1937. The largest figure from 1937 (officially recorded as being 149,415) remains the largest overall attendance for European football.
Book your place
Discover a national football collection to educate and inspire future generations.
Book online or call us today on 0141 616 6139.