Scottish Influence in Argentina and Iceland
Two other nations, Argentina and Iceland, will kick-start their World Cup journey today in Russia. Similar to other nations, history reveals that in both of these countries, when football was being introduced, it was, once again, Scottish participation that was deemed influential.
The decedents of a Mr. James Brown, one of the original Scottish settlers to Argentina in 1824, would have a significant impact on football in the country. Seven brothers and a cousin, all grandchildren of James Brown, would play for Argentinean clubs. Six of them would also play for the Argentinian national team. The most famous was Jorge Gibson Brown who captained Argentina from 1908 to 1913. A subsequent descendant of the Brown dynasty was Jose Luis Brown who scored one of the goals as Argentina won the World Cup in 1986.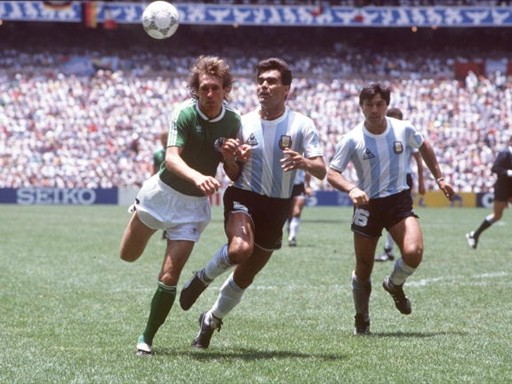 Above: Jose Luis Brown
Another Scot, Alexander Watson Hutton, dubbed 'the father of Argentine football', introduced football at the St Andrews Scotch School in Buenos Aires in 1882. Two years later he established the Buenos Aires English High School and a former pupil's team was founded in 1898; which became known as the Alumni Athletic Club. Alumni would win 10 out of 12 Argentine League titles between 1900 and 1911. After serving as a successful administrator and referee, Hutton re-established the Argentine Association Football League in 1893, becoming its President.
In addition, in 1891, an Alec Lamont, a head teacher from St Andrews, set up the Argentine Association Football League, the earliest known league out-with the United Kingdom. Five teams originally took part with two teams called St Andrews and old Caledonians vying for the title on 13 points apiece. A play-off was ordered and St Andrews won the match 3-1. The league stopped after just one season but was restarted by Scottish School master Alexander Watson Hutton in 1893.
Above: Alexander Watson Hutton
As international football matches were established between Argentina and Uruguay, Glasgow tea magnate, Thomas Lipton, donated the Copa Lipton trophy in 1905 for competition between both nations. The trophy was contested between the countries 29 times between 1905 and 1992. Watson Hutton's son, Arnold Hutton, starred for Alumni and scored in Argentina's 2-0 Copa Lipton win over Uruguay in 1906.
More so, 1901, two Scot's, William Leslie and his brother George, whose family originally came from Glasgow, lined up for Argentina in an unofficial match against Uruguay in Montevideo. The brothers helped the Argentina side win 3-2 and the following year, Willie was picked to play in the first official international match between both nations- with Argentina winning 6-0. The two brothers were also associated with the Lomas Athletic Club in Argentina- which won the first official league title of 1893. They also played in 'ex-pat' matches which involved teams representing Scotland, England, Wales and Ireland. Similar to Hutton, Willie later became a referee and, in 1907, was elected Vice President of the Argentine FA.
In terms of the Scottish influence in Iceland, the year 1895 seen the owner of the Isafold printing company in Raykjavik writing to the Scottish Typographical Association asking for a qualified printer and demanding that the chosen candidate 'must be a strict temperance man'. The person chosen for the post was a Mr. James Ferguson, a skilled printer and keen athlete from Glasgow. On arriving in Reykjavik, Ferguson soon became involved in sports and introduced local enthusiasts to gymnastics and football. He founded the Reykjavik Gymnastic Club; also organising and encouraging football activity. The game swiftly took root and, in 1899, Iceland's first football club Fotbaltafelag Reykjavikur was formed.
Book your place
Discover a national football collection to educate and inspire future generations.
Book online or call us today on 0141 616 6139.