Scottish Influence in Danish Football
The Scandinavian country of Denmark are a fast, footballing team, who will go into their World Cup Finals matches high on confidence. The history of football being developed in the Northern Europe nation points towards the presence of Scottish individuals and football clubs.
The Scottish influence of Denmark reveals a James Young Smart, born in Dundee on 18 March 1862, the son of a jute mill manager, and former player of Strathmore FC-founded in 1877, left his native Scotland to play football as he was the top scorer in Denmark's first league tournament in 1889-90, with 12 goals for KB who finished second behind Akademisk.
Whilst Smart's presence and flare was important, the country would accelerate the introduction of Association football after a visit from Queen's Park.
Queen's Park were invited to a Festival for the purpose of popularising and improving football in Denmark; where already there were quite a number of good clubs.
The men in the black and white hoops were the first club to visit Denmark in 1898; making it the first recorded time a Scottish club visited continental Europe. The Spiders were invited to give an exhibition of football with a Danish select team at the International Festival of Sports and Gymnastics (Den Internationale Gymnastik- og Idrætsfest). Their short passing game made a big impression on local enthusiasts, leading to football taking off in the country.
Indeed, Scotland international David Mitchell, who had also captained Rangers, was commissioned to coach the Danish FA team (DBU) when Queen's Park returned to Copenhagen in 1900. Queen's Park's early visits to Denmark seemed to have helped to affirm the perceived positive contributions of amateurism by strengthening Denmark's incongruous relationship with British professional football.
As well as the regular visits of Queen's Park, Hearts would visit Denmark in 1912 and Rangers would also tour to Denmark one year later.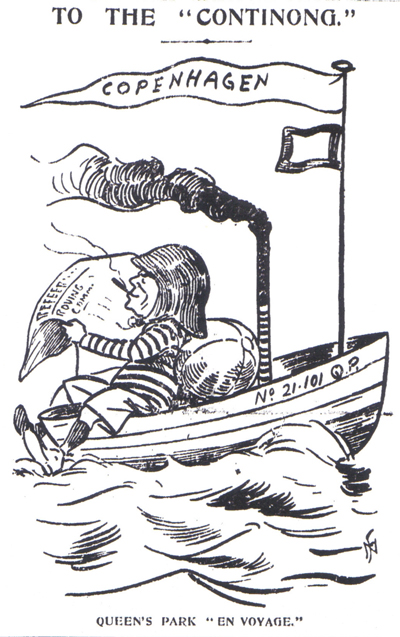 Above: A cartoon in the Scottish press of Queen's Park's tour to Denmark.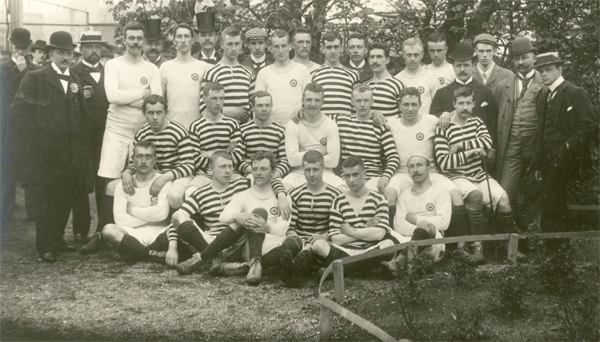 Above: Queen's Park Squad photo in Denmark 1898.
Book your place
Discover a national football collection to educate and inspire future generations.
Book online or call us today on 0141 616 6139.