The 1948 Great Britain Olympic Football Team
Very recently, the Scottish Football Museum has paid tribute to Queen's Park Football Club on their 150th anniversary with a Queen's Park exhibition. There are multiple items within this gallery which the public often ask about with curiosity and enthusiasm, however, one football top in particular has led to people inquiring, "what is the story behind the 1948 GB Olympics Football jersey worn by an Angus Carmichael?"
Angus Carmichael was a Queen's Park left back who was selected to be part of the Great Britain football squad competing at the 1948 Olympic Games; playing once in the Bronze medal match against Denmark.
In late July 1948 (69 years ago), the Olympic Games returned after a 12 year absence because of World War II. The games were unofficially referred to as "the Austerity Games" because of the economic status after the awful years of conflict. Germany and Japan were refused permission to participate; the USSR was invited but chose not to send any athletes.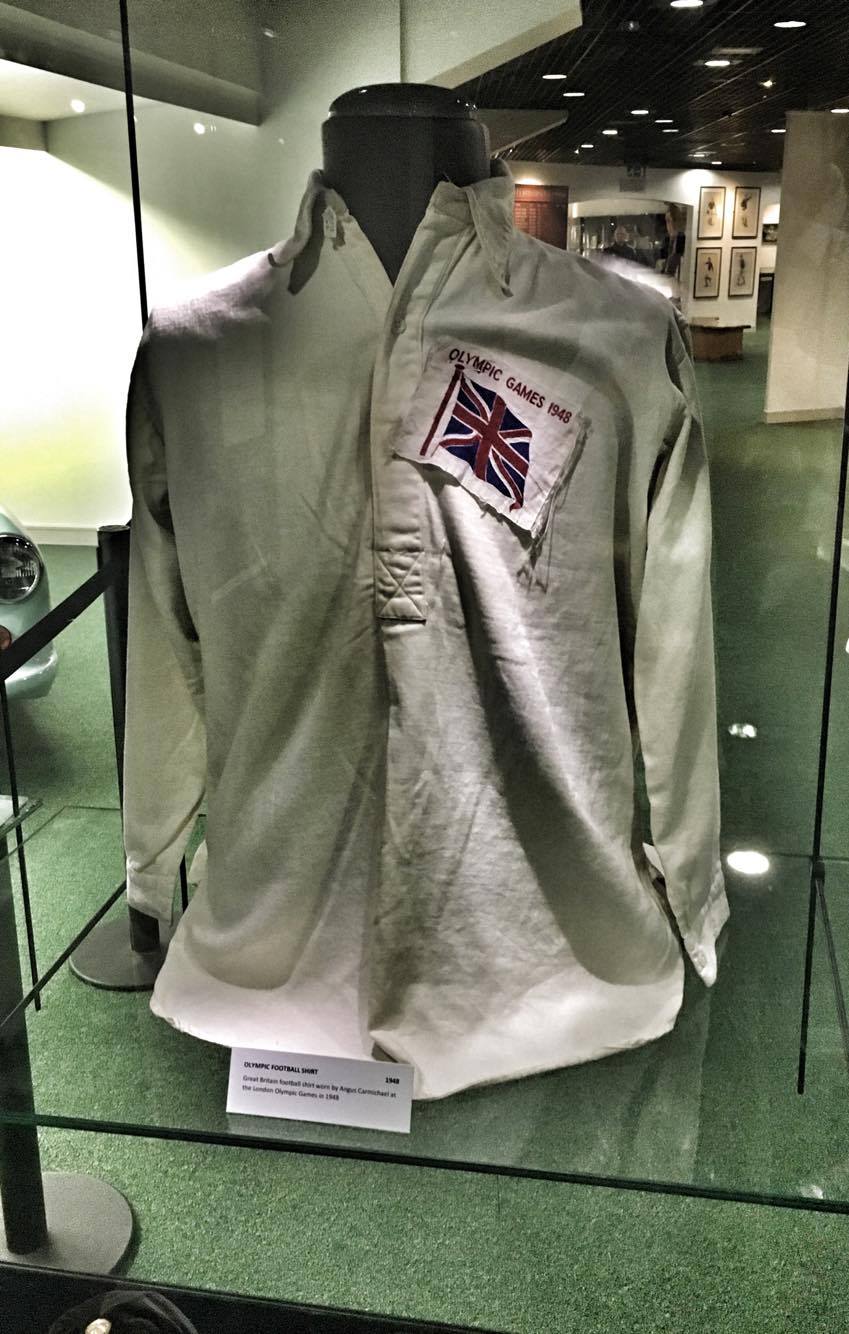 This would be the second time the Olympic Games were hosted in the city of London. All football players were to be amateurs, in accordance with the Olympic spirit, which meant that some countries could not send their full international team- though this did not stop countries at times requesting to field their national teams. By this time, it was recognised that Britain's amateur players were not of the same quality as they had been in earlier years, due to the rise of the professional game, so newly appointed Team GB coach, Matt Busby, searched far and wide for the best amateurs in the land.
Above: Alan Carmichael's Team GB jersey.
Nineteen players in total were selected to play in the GB team- five of them being Queen's Park  players. Andy Aitken, John Boyd, Angus Carmichael, James McColl and Ronnie Simpson. David Letham of Queen's Park did not make the final squad, although, Letham was on the stand-by list should any player pull out of the squad. Indeed, the youngest selected was Ronnie Simpson at 17 years, 289 days while the oldest was Welsh club Troedyrhiw's Gwyn Manning at 32 years, 343 days. What is interesting is that years later, in 1967, Simpson would go on to be Scotland's oldest debutant at 35 yeas old when Scotland faced England at Wembley.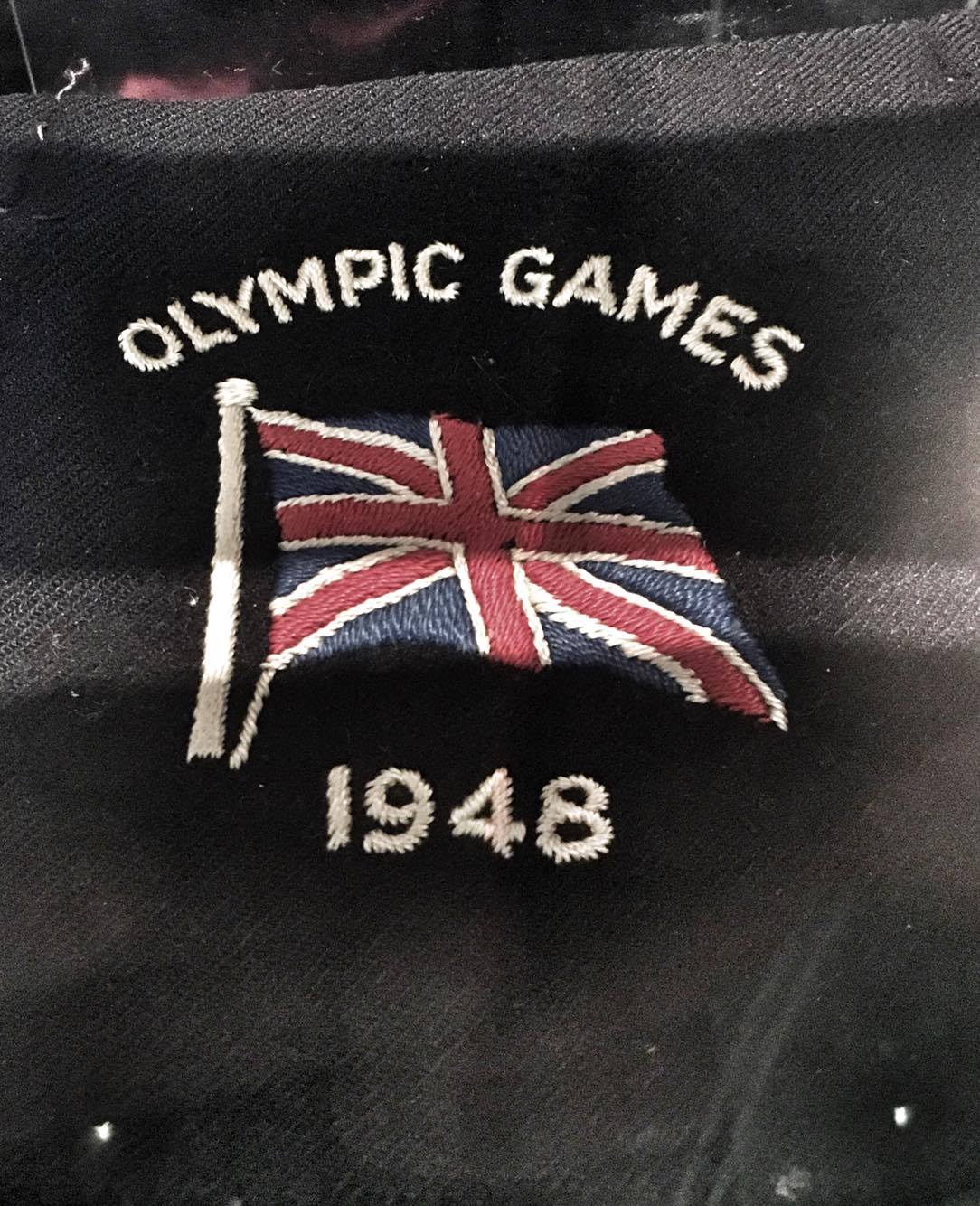 Left: The Badge on each player's blazer.
The GB Olympic football team has competed in many Olympic Games but 1948 was to be their most successful tournament. Wembley Stadium hosted Great Britain's final two matches, though they also played at Craven Cottage and Highbury. In the first round, the men beat the Netherlands 4-3 after extra-time; goals from Dougie McBain, John Hardisty, Dennis Kelleher and Harry McIlvenny were enough to progress. After that it was France who stood waiting in the quarter-finals. In a cagey affair, a second goal of the tournament from Hardisty was enough to overcome Les Bleus for the UK men to reach the semi-finals.
In an entertaining semi-final match against Yugoslavia, Great Britain would fall just a bit short of quality going toe to toe with the Eastern Europeans. Stjepan Bobek put Yugoslavia 1-0 up before Frank Donovan leveled the score. Four minutes after the score became 1-1, Yugoslavia were then in front again; this time through Franjo Wolfl. Any hopes of a comeback were made much more unlikely as Rajko Mitic scored his country's third goal in the 48 minute.
Having lost the semi-final to Yugoslavia, Britain faced Denmark in the bronze medal match- in front of almost 50,000 at Wembley. If the British public thought the Yugoslavia game was a great watch for the viewer then they were to be in for a treat watching this tie. Andy Aitken got Team GB off to the perfect start grabbing a goal after just five minutes, until Denmark equalised through Karl Aage Præs on the 12th minute; followed with John Hansen turning the tie on its head slotting home four minutes later. Hardisty brought it back to 2-2 after the half hour mark (his third goal of the Olympic Games), though Denmark would go into the half time dressing room 3-2 up after Jørgen Leschly Sørensen scored his country's third goal. A fantastic first half of football in which the second half would mirror slightly. Just after the restart Præs got the better of the GB defence again, firing past Simpson on the 49th minute. The crowd was tense but regained hope when Bill Amor of Reading converted a penalty. 4-3 to Denmark with just under half an hour to go. Then the killer blow for team GB, Hansen second goal all but confirming which country would be finishing third in the football tournament. Team GB finished forth overall as Denmark achieved the bronze medal- holding on to win the match 5-3 at Wembley.
Despite the end result for team GB, the players did the British Isles proud and the Queen's Park men did not look out of place on the Olympic stage. Because of the commitment shown to the amateur status- and a consistent good standard of football- Queen's players such as Thomas Stewart, John Devine and David Holt would in the future be called up for Team GB in the Olympic Games of 1952 and 1960. These players participation at the Olympic Games is just another fine example of the always impressive history of the oldest association club in Scottish football. It is therefore no surprise when hearing stories such as the 1948 Olympic football team, visitors, who gaze upon the Queen's Park exhibition viewing items of the club's history, are lost in amazement and end up spending hours absorbing the knowledge and past of the men in black and white hoops.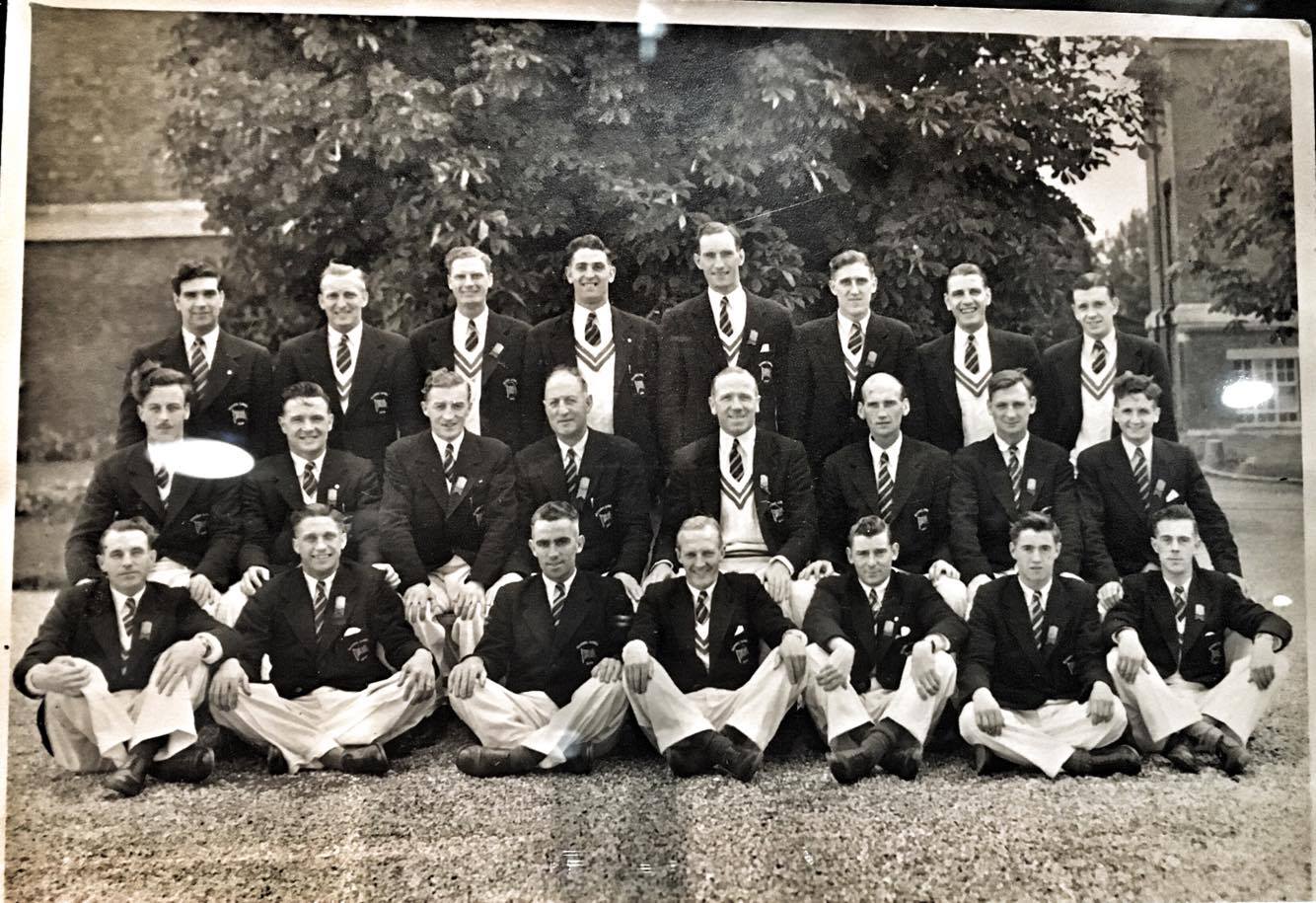 Above: A Squad photo of the team in London.
Team Great Britain Squad:
Kevin McAlinden (Belfast Celtic)
Ronnie Simpson (Queen's Park)
Angus Carmichael (Queen's Park)
Gwyn Manning (Troedyrhiw)
James McColl (Queen's Park)
Charles Neale (Walton & Hersham)
Eric Fright (Bromley)
Eric Lee (Chester City)
Douglas McBain (Queen of the South)
Andy Aitken (Queen's Park)
Bill Amor (Reading)
John Boyd (Queen's Park)
Frank Donovan (Pembroke Borough)
Bob Hardisty (Darlington)
Thomas Hopper (Bromley)
Dennis Kelleher (Barnet)
Peter Kippax (Burnley)
Harold McIlvenny (Bradford Park Avenue)
Jack Rawlings (Enfield)
Head Coach: Matt Busby
Book your place
Discover a national football collection to educate and inspire future generations.
Book online or call us today on 0141 616 6139.