The Unofficial World Champions of 1967
Fifty years ago, football was back on the agenda more than ever in Scotland. Not that it had ever really disappeared for the love affair of a Scotsman with his national game is an eternal phenomenon, but people were becoming more and more animated, and they approached this England game at Wembley with more than the usual excitement.
What was the reason behind this? The suffering of the Scots from listening of England's World Cup triumph on home soil. The constant thought that Scotland did not make the 1966 World Cup but if present could have done well. The feeling that some English clubs caused the failure to qualify by not releasing their Scottish players for international duty. Although the real reason behind the lack of qualification was because Scotland did not performing well enough in the qualifiers. What could not be denied however was that the Scottish talent could have lit up the 1966 Word Cup tournament, and now, a year later, was the perfect opportunity to show what might have been.
This was to be the first match in charge for Bobby Brown, a respected gentleman in the Scottish game, who would be inducted into the Scottish Football Hall of Fame in 2015. For Brown there were three players that would be vital for this tie; Billy Bremner, Denis Law and Jim Baxter. If all three together were on their day, then very few in the world at that time could stop them. Though to put such great individuality in a balanced side would not be easy. This game against the World Champions was to be a big test for Brown.
A surprise call up was the unknown Jim McCalliog of Sheffield Wednesday brought to the fold for the first time. Another was the decision by Brown to give goalkeeping duty to 35 year old, Ronnie Simpson. Though Brown was adamant that his old Queen's Park team-mate would not let him down on the big occasion. Sections in the Scottish media however disagreed.
Indeed, England were feeling the pressure before British Championship match; some aspects of the press were claiming their World Cup success was down to playing all their games at Wembley rather than elsewhere and that their Scottish opponents had players in the side excelling with their teams in European competition. English teams were nowhere to be seen in European competition at that time. Though this team were not the World Champions for no reason and had been unbeaten since lifting the great trophy last summer. Gordon Banks, Bobby Charlton and Bobby Moore were all world class players in their own right. Already this had the making to be a fantastic match in London.
The Scotland team allowed the media and photographers to hang around the hotel lobby, giving the old confident cliches expected before such a match. Scottish self destruction was barred for this occasion. There was no night out in London before this game- not at least until after. There was one vicious plot by Baxter and Law to wind up England's Alan Ball by mimicking his high pitched voice and call him the 'Clitheroe Kid', a character in a radio programme of the time played by 4 foot 3 inch comedian Jimmy Clitheroe.
As usual, half of the stadium was occupied by the travelling support . Scotland would set up in a 4-4-2 formation compared to England's 4-3-3 positive tactics. Despite this indication, it would be Scotland playing in a more positive manner. Just on the half hour mark, Scotland went in front. Willie Wallace tried a shot that was blocked with the ball coming to Denis Law who hit it past Banks, raising his arm in his charismatic manner as the tartan exploded around Wembley. 1-0 at half time but a match not live on television. Supporters all over the UK were gathered round radios crediting the Scottish commitment but were expecting a potential English backlash in the second half.
As much as Scotland were still on top in the second forty five, it was still a tense affair for those cheering on the men in navy blue. Yet it did not stop Baxter's attempt to aggravate the England players and supporters for 'Slim Jim' decided that one way to hit the English nerve, he would perform keepie uppies on the left side as well as slowing down the pace of play to calm his team-mates; an act that would be legendary and is still idolised to this present day. Though it wasn't the juggling of the ball that was remarkable, which only lasted a couple of seconds, it was that somebody was slowing the pace and looking for the best pass in a match where, on the whole, hearts were ruling heads. Baxter however was in full control.  Many tackles committed by both sides during the game would have had players sent off in today's world, but cries and shouts were simply waved on by German referee Gerd Schulenburg.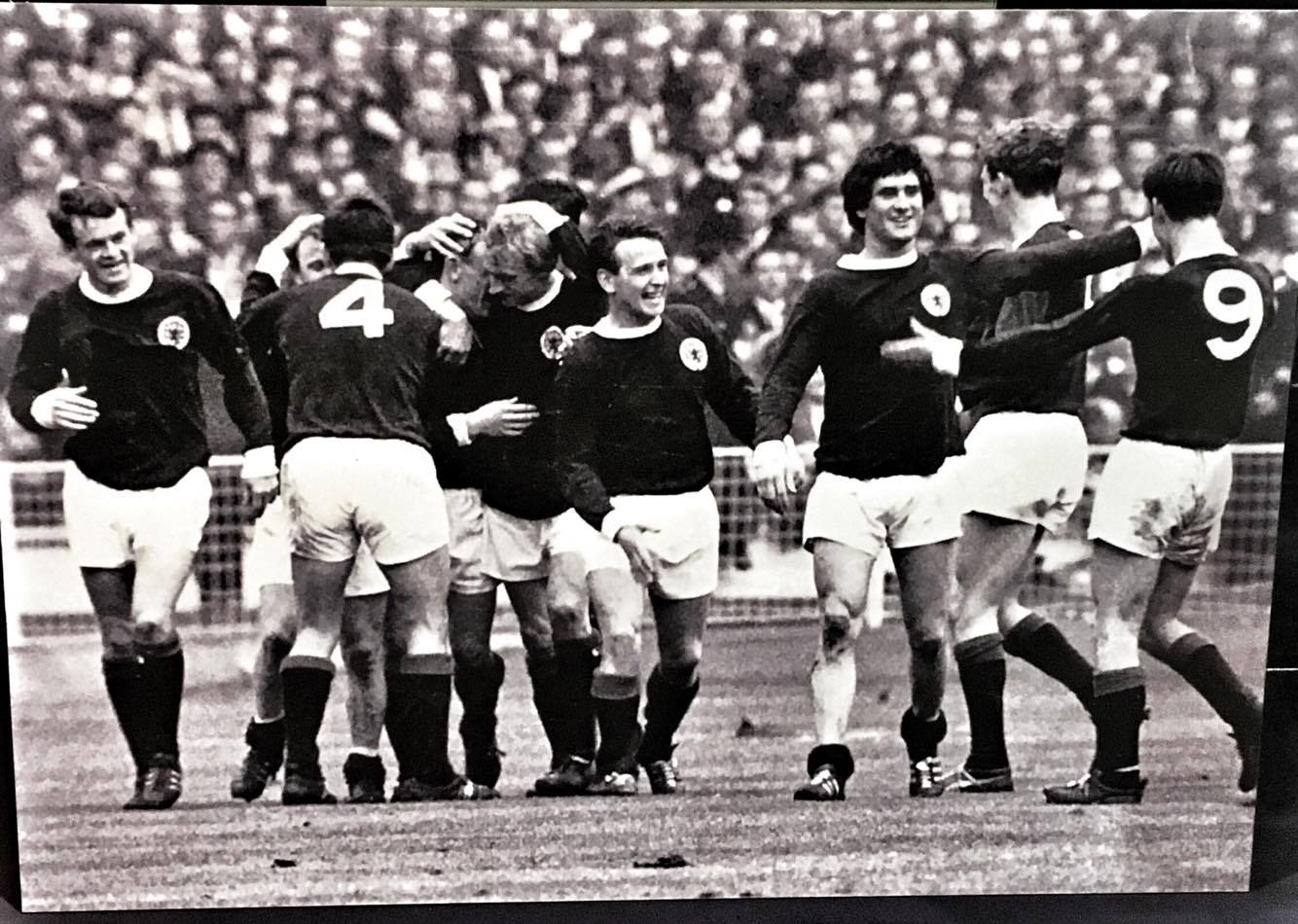 No further goals came until the last ten minutes. Bobby Lennox made the score 2-0, becoming the first Celtic player to score at Wembley. Then Jack Charlton pulled one back for England. England's back yard was now in raptures as Scotland scored again through debutant Jim McCalliog. The Dark Blues seemed home and dry at 3-1 with time running out but Scotland never do things the easy way, and a moment's slackness saw Geoff Hurst ghosting in unmarked making it 3-2.
After a couple of minutes of soaking up last minute pressure from the hosts, the referee blew the final whistle and the Scottish fans took over. Dancing and jubilation from the supporters hit home to the players that they had become the first nations to defeat the 1966 World Champions. Yet, despite the result, the Scotland players were angry at Baxter because his quest to belittle England was stopping them to score more goals. Few, such as Law, had wanted to score as much as they could as revenge for the humiliating 9-3 defeat at Wembley in 1961 and the fact they had won the World Cup the previous year.
Besides the frustrations of lack of goals, Scotland played a fantastic game- in a year when the Scottish game was having one if it's greatest ever seasons. Another huge lift for the country to feed off of  thanks to its national game. Another tale added to the history books. Another game which will forever warm the Scotland supporter's heart.
Three cheers for the men of Wembley 1967!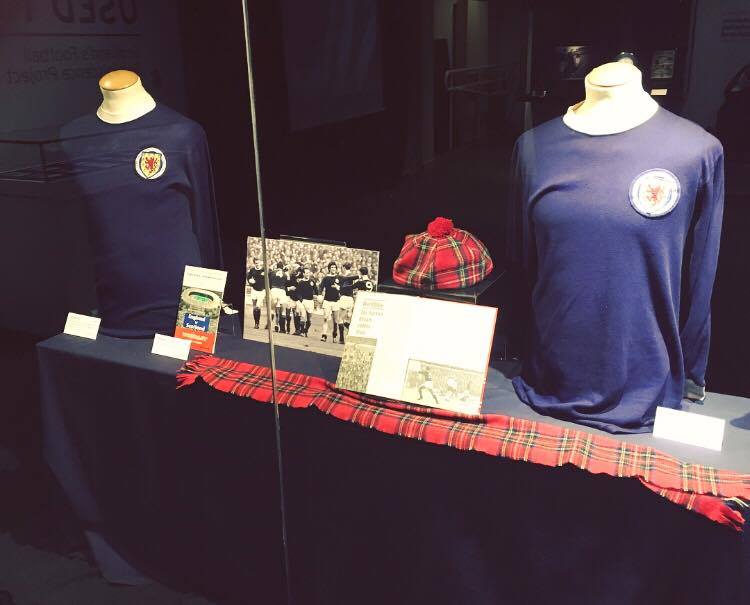 Eaddie McCreadie and Tommy Gemmell's Scotland jerseys from the 1967 Wembley match on display in our Museum.
England Team 
1. Banks (Leicester City)
2. Cohen (Fulham)
3. Wilson (Everton)
4. Stiles (Manchester United)
5. J. Charlton (Leeds United)
6. Moore (West Ham United)
7. Ball (Everton)
8. Greaves (Tottenham Hotspur)
9. B. Charlton (Manchester United)
10. Hurst (West Ham United)
11. Peters (West Ham United)
Scotland Team 
1. Simpson (Celtic)
2. Gemmell (Celtic)
3. McCreadie (Chelsea)
4. Greig (Rangers)
5. McKinnon (Rangers)
6. Baxter (Sunderland)
7. Wallace (Celtic)
8. Bremner (Leeds United)
9. McCalliog (Sheffield Wednesday)
10. Law (Manchester United)
11. Lennox (Celtic)
Book your place
Discover a national football collection to educate and inspire future generations.
Book online or call us today on 0141 616 6139.