Women's Football in Scotland
Tonight, Anna Signeul's team prepare for their opening match against England at the 2017 Women's European Championships in Holland. This will be the women squad's first ever game in a major tournament. To many there is excitement, others nerves, but overall, particularly in Scotland, this recent success in the women's game has been a long time coming.
Many might not be aware of this but the start of women's football, of what we know today, began in Scotland.
The first known women's match to be played under football association rules would be at Easter Road in Edinburgh in May 1881. A team representing Scotland beat one from England 3-0 with Lily St Clare- the first ever recorded female goalscorer- netting the opener. In one report following the game, the Glasgow Herald described the Scottish team as looking "smart in blue jerseys, white knickerbockers, red belts and high heeled boots". Another game followed a few days later, this time in Glasgow, however the match would be abandoned due to fans entering the pitch and fighting amongst themselves and the authorities.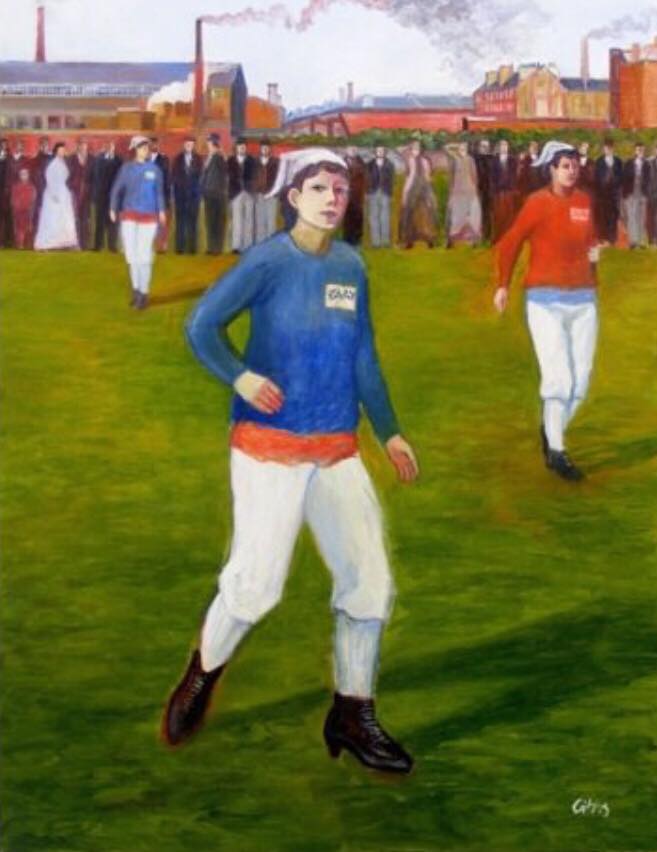 Left: Lily St Clare.
During the First World War, as men fought on the front line, women playing football was attracting large attention from fans. The year 1918 saw an unofficial Scotland v England match hosted at Celtic Park; attracting a crowd of 8,000 people. Shortly when conflict finished, women were expected to return to work rather than play football. Their dreams of playing the game professionally the same as men were to be short-lived for in the mid 1920's, despite commitment from clubs, the SFA would not allow member clubs to advocate or entertain women's football.
By the 1970's Scottish society was changing. The women's liberation movement advocated equal rights in the work place while the contraceptive pill revolutionised private morality. Equality was also demanded in football; the World Cup in 1966 was a great sour to the development of women's football throughout Britain. Following two unofficial women's World Cups in 1970 and 1971, UEFA recognised a need to structure the development of women's football. Over 30 European football associations supported this decision though Scotland alone did not. In 1974, the British government announced plans to introduce the Sex Discrimination Act. It was during this year that the SFA agreed to give token recognition to the Scottish Women's Football Association- which had already been formed in 1972.
Scotland's first Secretary was Elsie Cook; the strip washer, organiser, and friend of the Museum. Cook's eyes light up every time she shares the tale of organising the first official women's international match. Players were selected over 3 months of trials. The final team included players from Cambuslang Hooverettes, Motherwell AEI, Lees Ladies, Westhorn Utd and Dundee Strikers; under the guidance of former Kilmarnock and St Mirren player, Rab Stewart, Scotland Women's first ever manager.
The team travelled about in a milk van which smelled awful, surrounded in milk creates, arriving to training "with their stomachs turning!" With very little backing and money and just one week before the match, the jerseys were bought by Elsie from a jumble sale in Stewarton- who also sewed on the Scotland badge to each jersey- while the shorts and socks were loaned by Rangers Football Club.
The Scotland women's team, captained by Margaret McAuley Rae, played their first official international match against a well organised England team at Ravenscraig Park in Greenock 1972. It was November, bitterly cold and a half the game took place in a snowstorm. Scotland forged ahead with a 2 goal lead but eventually lost to England 3-2.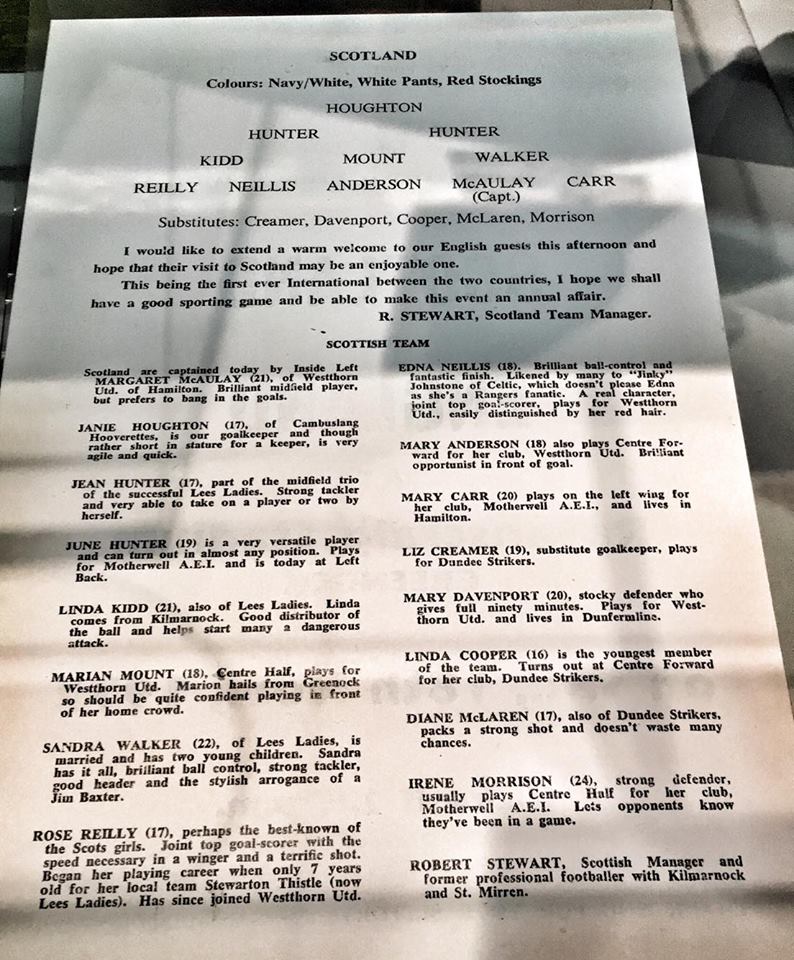 Left: the Scotland line up from 1972 against England.
Part of that team were two monumental figures in the Scottish women's game; Rose Reilly and Edna Neillis. Several top Scottish players could not resist the lure of Italian football. In Italy, women's football was semi professional with gates averaging 6000. The speed and the skill of Scottish Football Hall of Fame inductee Reilly and counterpart Neillis took the Italians by storm. They both played for AC Milan in a vital match against League leaders Roma, Neillis would score a hat-trick in front of a crowd of 20,000. Reilly would go on to play for nine Italian clubs over 20 years, winning eight Scudetti and four Italian Cups. She won the golden boot in 1978, scoring 43 goals for Catania, and in 1981, hitting 45 for Lecce.
Towards the end of the 1990's support for the women's game increased. In September 1998 the Scottish FA took charge of the Women's international side and ten development centres were established across Scotland to cater for girls from the age of ten. With a significant number of clubs and players, a new generation of star players started to emerge, such as Julie Fleeting, Gemma Fay, Leanne Ross and many others.
This year has celebrated the incredible highs of Scottish football that took place fifty years ago, though the celebrations should not stop there. A Scotland Women's team have qualified for a major competition for the first time in their history; reaching the 2017 Euro Championships in Holland. It is important for all involved in the sport not to underestimate the determination, hard work, passion and success from days around 1881 to today's National Women's team heroes. Indeed, what is uniquely fitting is- after facing each other nearly 45 years ago in the first ever official international match – Scotland play England in their first ever finals match.
Signeul, the backroom staff and the players will forever share the legendary status with St Clare, Cook, Reilly, Neillis, Fleeting. Not only do they leave behind a legacy resulting in future generations to develop appetite and passion to participate in the women's game; they set a bright, positive platform for women's football in Scotland. It is no wonder the  work from the governing bodies, individuals and upcoming talent across the country leaves the Scottish football fan excited for the future.
The Scotland team from the 1970's.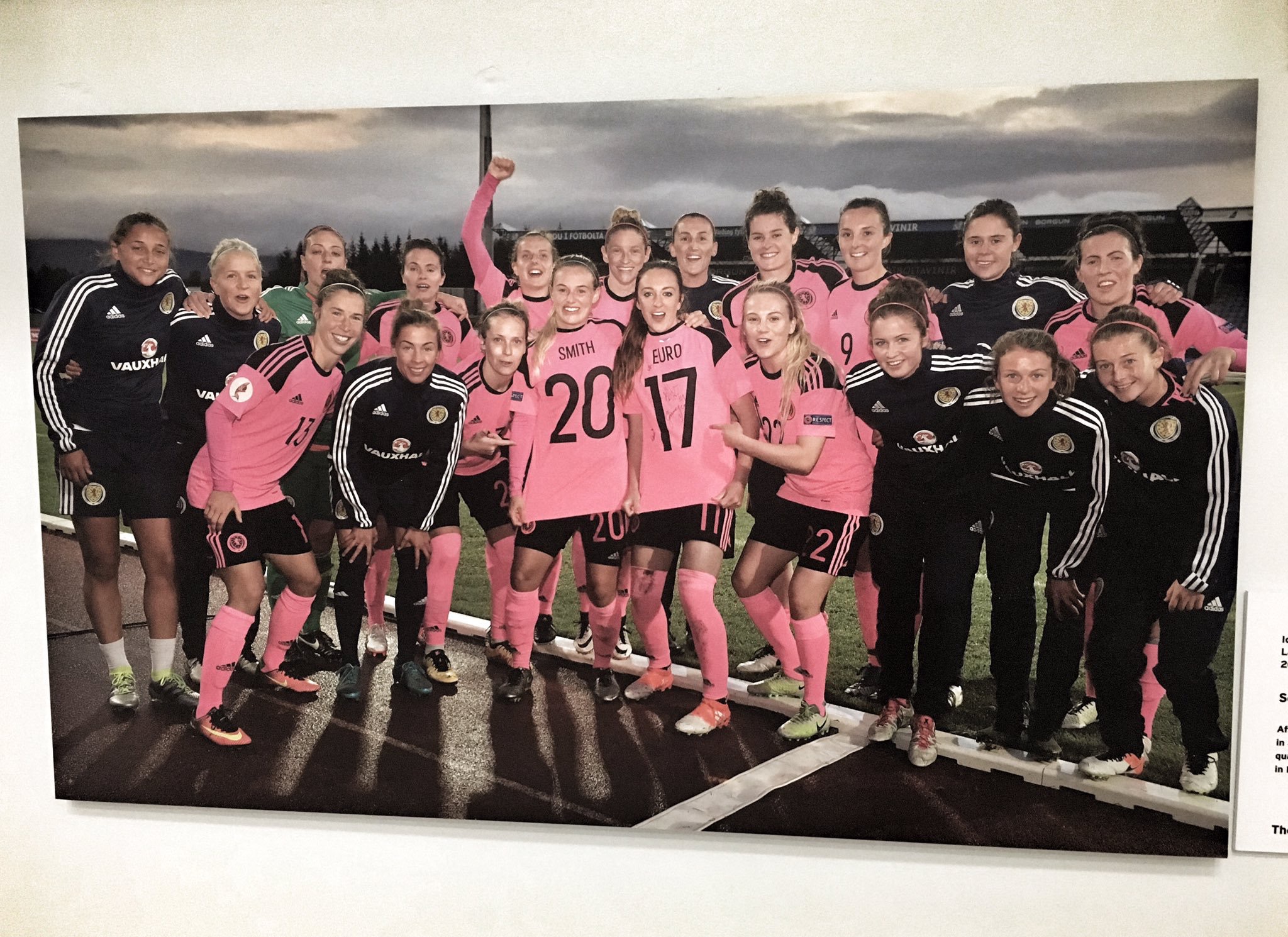 The Scotland Women's team achieving qualification for a major tournament for the first time in their history.
Book your place
Discover a national football collection to educate and inspire future generations.
Book online or call us today on 0141 616 6139.